Horses
I've loved horses my entire life.  I don't know if this is memory or family legend, but before I could walk, I pointed to horses, wanting only to be with them. I had my first ride at four years old on a very "child safe" horse. While other horses trotted ahead, no matter what I did, my horse plugged along, knowing those other horses weren't really going anywhere special and we'd get there eventually.  I kicked and kicked that horse with my feeble four-year-old legs to no avail and was almost in tears when a man rode by me saying, loudly enough for me to hear, "that little girl sure can ride." All my frustration left me and I sat back, feeling pretty good about myself.  I sure can ride.  Thanks to that kind stranger, that was the message I took away from that first experience.
From the time I could read, I consumed every horse book I could find.  Black Beauty, My Friend Flicka, everything Walter Farley or Marguerite Henry ever wrote.  Books with names like Hobby Horse Hill and Born to Ride filled my shelves.  In fifth grade, I read The Black Stallion fifty-five times in one school term. When we would go on long drives in the car, I would look out the window and see myself riding the Black, galloping and jumping over everything in our path.
Horses filled my imagination, my nightly dreams, and my day dreams for most of my life.  They still do. Since age thirteen, I've owned five horses, including the three I have now, but I've trained, shown and ridden dozens of horses. I bought my four year old, Dakota, as a yearling and I'm training her myself. I rescued a four-month-old baby (now over a year) my husband named Starlight. Gracie is John's horse, but I've been working with her as well, and I love her kind and loving nature.
Dakota, Grace, Star, and I are definitely on a journey, one of exploration, trial and error, and hopefully, many years of genuine, loving partnership.  They are all spectacular girls, wonderful spirits. Beautiful, smart, strong.  Can I teach them the things they needs to know to flourish in a world of humans? Can I guide them in such a way that their intelligence and spirit shines through, regardless of what I'm asking them to do?
These are the questions I ask myself. Just riding no longer interests me. I'm embarking on a journey for something more with these horses, seeking a relationship that is deeply connected heart to heart, being to being.
Yoga
Having engaged my own in deep self-inquiry and the study philosophy for over twenty years, I began my yogic studies with Matt Huish in 2005 and was a student and assistant instructor in Matt's intensive three-year teacher training program. I have also studied directly with Zhander Remete, founder of the Shadow Yoga School, and Emma Balnaves. My current practice involves working with asana and mudras that work directly with the energetic pathways of the body. To quote Matt:
"Nadi Yoga utilizes many tools in addition to the classical mudras, such as powerful breath techniques and classical asana formats, done both in the style of tapasic held positions as well as dynamic moving forms. These tools help us to discover the pathways in our life's expression that are blocked or stuck, helping us to free up bound energy and come into alignment with our authentic expression."
I've also begun to study tantra with Matt, in the Sri Vidya tradition. For more information on both Nadi Yoga and the Sri Vidya tradition, see Matt Huish's blog and web site.
Academic and Other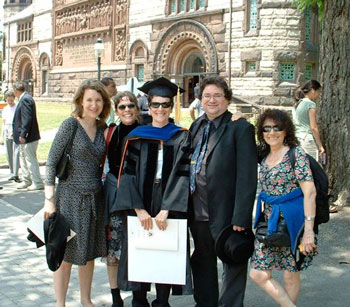 I received my doctorate in philosophy and religious studies from Princeton University, having graduated summa cum laude from Columbia in NYC. I've spent over twenty years studying ethics, Greek and continental philosophy and creative writing. I've taught in both large and small learning environments, and helped develop and teach a body awareness program for rape survivors. I have over five years of advanced study in yogic and Vedantic philosophy and theory, including four years of teacher training with Matt Huish, Zhander Remete, and Emma Balnaves of the Shadow School of Hatha yoga. I spent two years in Columbia's renowned creative writing program and I'm presently enrolled in Pacific University's low-residency M.F.A. in Creative Writing program.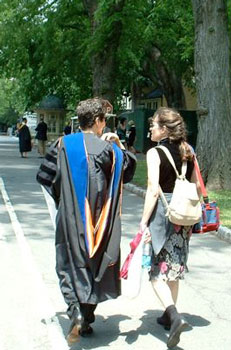 Education
Pacific University, M.F.A. candidate, Creative Writing
Princeton University, M.A. and Ph.D., Religion
Columbia University, B.A., Religion, summa cum laude, departmental honors
Southern Illinois University/University of New Orleans, 3 years study in Zoology/Pre-vet
Works
The Phenomenology of Evil: Excessivity, Intentionality and Malignancy in Human Action
(dissertation thesis)
"The Jade Dragon"
"The Fragility of Goodness: Martha Nussbaum on the nature of the good"
"Objectification and Alienation in Marx's Early Period"
"Benito Cereno; Melville and Moral Ambiguity"
"Rhetoric and Religion"